Massanutten District Elbert K. Fretwell Award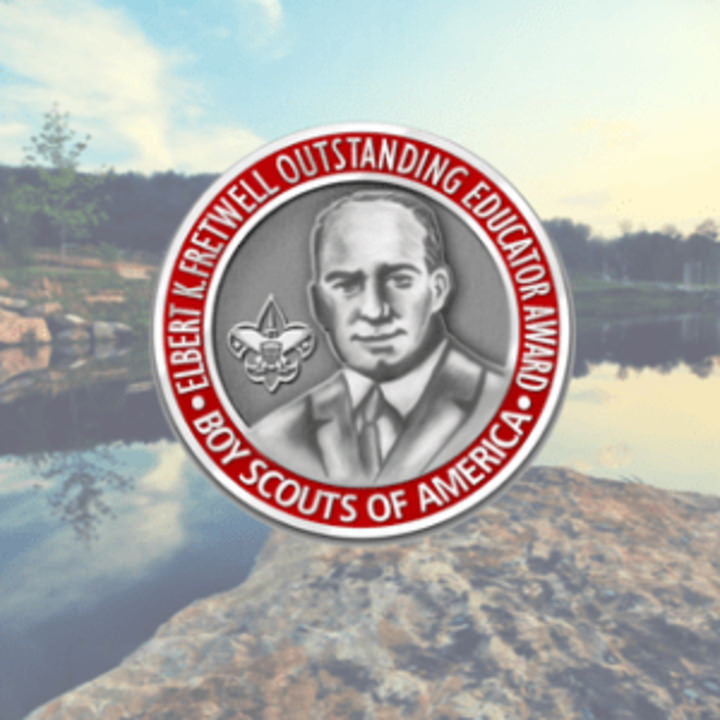 The Boy Scouts of America aims to instill lifelong values from the Scout Oath and Law into young people. While the organization often focuses on the impact of unit leaders, council volunteers, and BSA professionals, members of the educator community sometimes fulfill this mission.
To recognize the valuable contributions the educator community makes in the lives of young people, the BSA introduced the Elbert K. Fretwell Outstanding Educator Award in 2016. Teachers, coaches, administrators, custodians, cafeteria workers, and many others can have a profound impact on preparing youth to become better citizens and leaders. These educators understand that 'Scouting' values can also make excellent 'teaching' values.
Named after a Columbia University education professor (who also happened to be the BSA's second Chief Scout Executive), the Elbert K. Fretwell Outstanding Educator Award is presented to those who work in education and who follow the BSA's mission "to prepare young people to make ethical and moral choices over their lifetimes by instilling in them the values of the Scout Oath and Law."
The Massanutten District is accepting nominations for the 2022-2023 school year. We are looking to present four of these awards; one for each of the three public school districts in our borders (Harrisonburg City Public Schools, Rockingham County Public Schools, and Pendleton County Schools) as well as one for a private school educator. Nominations are due to Matt Phillippi, the District Commissioner, by December 2nd, 2022.
---
Past Recipients
2021-2022 School Year
Kendal Bauman - Eastern Mennonite School
Emily Von Roekel - Lacey Spring Elementary School
| File Name | Description | |
| --- | --- | --- |
| Massanutten District 2022-2023 Fretwell Nomination Form | Nomination form for the Fretwell Outstanding Educator Award for the 2022-2023 School Year. | Download |