Diversity Equity & Inclusion
The Scouting Movement, including the Scouts BSA and the Virginia Headwaters Area Council, is dedicated to increasing diversity in Scouting.
The BSA's Diversity, Equity, & Inclusion Vision
To partner with all families and communities in raising young people of high moral character, developing their leadership skills and preparing them to serve and thrive in a world of increasing complexity and challenge.
BSA Diversity, Equity & Inclusion website
A Scout is trustworthy, loyal, helpful, friendly, courteous, kind, obedient, cheerful, thrifty, brave, clean, and reverent.
This isn't just the Scout Law, these vaules provide the framework for advancing diversity and inclusiveness. By harnessing and embracing our differences, we create stronger units and a stronger society.
Help foster awareness for diversity and inclusion by having a diversity moment at your meetings.
---
Citizenship in Society merit badge
---
VAHC Diversity and Inclusion Patch
The "Commitment to Diversity" patch was created by the Virginia Headwaters Council's Diversity and Inclusion Committee to strengthen inclusiveness, celebrate diversity, and create cultural awareness and
understanding.

This patch is meant for a Scout to complete with a parent or guardian, or any adult leader.

There are 4 levels of individual Scout requirements.
1. Cub Scouts
2. Scouts under age 14
3. Scouts over age 14 & Venturers
4. Scout Leaders
For the full list of requirements, please download the VAHC diversity patch requirements.
---
Local resources
Other resources
Special Needs Scouting Toolbox
The Neurodiverse Scout Group
No Scout Left Behind: A Guide to Working with Scouts with Disabilities - Facebook Group
Diversity in Scouting by the World Organization of the Scout Movement
Diversity and Inclusion by the World Organization of the Scout Movement
Inclusive Scouting Guide from Scouts for Equality
Downloadable Guide from Scouts for Equality
---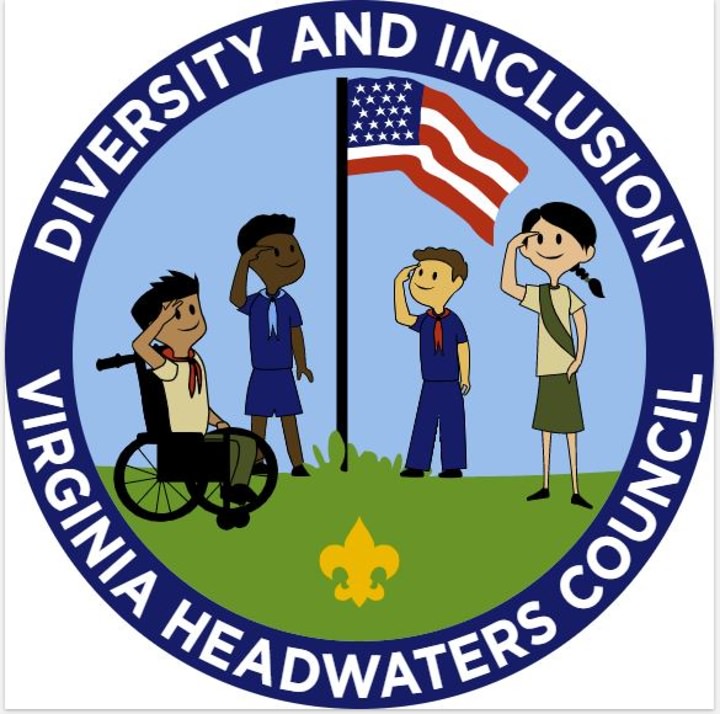 | File Name | Description | |
| --- | --- | --- |
| A Scout is Thrifty | Decreasing financial barriers to Scouting | Download |
| Campership Application | Application for financial assistance to summer camps at Camp Shenandoah. | Download |
| Scholarship Form for Registration Fees | Application for Financial Assistance for Scouts BSA Dues and Fees | Download |
| VAHC Diversity Patch Requirements | Council Diversity Patch requirements | Download |
| VAHC Transgender and Gender Non-Conforming Scouts guidelines | Guide for leaders and volunteers on how to support gender diverse Scouts. | Download |