Online Cub Scout Pack Meeting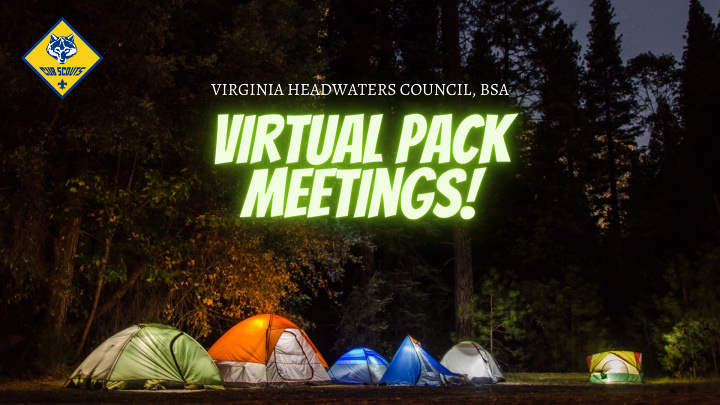 In response to COVID-19, the Virginia Headwaters Council will be offering Virtual Pack Meetings. We believe that this will help support our youth and their families as some Packs are still not able to meet.
Additional Notes (Please Review)
Each scout must register separately so we can track their daily progress and attendance.
Current youth protection guidelines (two-deep leadership and no one-on-one contact) will be followed by all staff under the Virginia Headwaters Council and its Cub Scout Adventure instructors at all times while working with youth and their families; more information can be found below "Important Excerpts from Advancement Guidelines".
All Cub Scout pack meetings are open to any scout(s) from any council(s) that are currently participating in a Cub Scout program; all times listed below are located in the eastern time zone of the United States of America.
We strongly encourage and recommend that any scout(s) participating in these meetings receive verbal permission from their parents/guardians and their unit leader(s)
All live instruction will be provided by an online format called Zoom Webinars; an online portal provided by the Virginia Headwaters Council
Please click on the link below to register.
We will be using Zoom Webinars.

Zoom will be used with security for YPT

No video of youth; turn their cameras off.
Participants must enter the meeting through a waiting room and be admitted by the Cub Scout Adventure instructor host.
Youth must identify themselves by their first name and last initial.
A second adult will be in the Zoom meeting as a monitor; 2 deep leadership.
Click on the link to register the week before a meeting: Virtual Pack Meeting
Here are the upcoming Virtual Pack Meeting Dates:
February 25th, 2021 @7pm
March 11th, 2021 @7pm
March 25th, 2021 @7pm
April 8th, 2021 @7pm
April 22nd, 2021 @7pm
May 6th, 2021 @7pm
May 20, 2021 @7pm