FOS Luncheon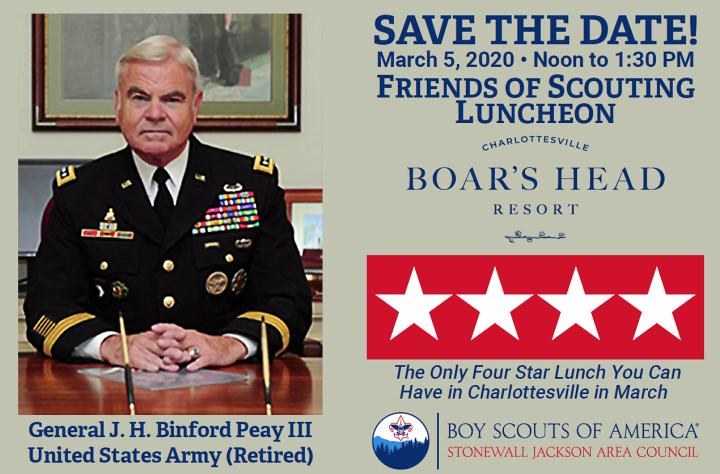 FOS Luncheon 2020 - March 5, 2020
The Boar's Head Resort
Come join us as we celebrate local Scouting and hear from this year's esteemed speaker, General J.H. Binford Peay III. For information on table sponsorships please contact Sue Hart at susan.hart@scouting.org or by calling 540-943-6675.
GENERAL J.H. BINFORD PEAY III UNITED STATES ARMY (Retired)
General Peay was born in Richmond, Virginia on 10 May 1940. Upon graduation from the Virginia Military Institute in 1962, he was commissioned a Second Lieutenant of Field Artillery and awarded a Bachelor of Science degree in Civil Engineering. He holds a Master of Arts from George Washington University and is also a graduate of the United States Army War College.
He assumed command of the 101st Airborne Division on 3 August 1989 and led the Division throughout Operations DESERT SHIELD and DESERT STORM in the Persian Gulf. Promoted to Lieutenant General, he was assigned as the Deputy Chief of Staff for Operations and Plans, Department of the Army and Senior Army Member, United States Military Committee, United Nations and on 26 March 1993, he was promoted to the rank of General and appointed the 24th Vice Chief of Staff of the United States Army. His last assignment was Commander-in-Chief, United States Central Command, MacDill Air Force Base, Florida, from 5 August 1994 to 13 August 1997, with responsibility for the region encompassing twenty countries of Africa, the Middle East, Persian Gulf and South Asia.
General Peay and his wife, Pamela, have two sons: Jim, VMI Class '98, and Ryan, VMI Class '02. Their grandfather was J.H.B. Peay Jr., VMI Class '29.
General Peay was named the Virginia Military Institute's 14th Superintendent on 25 November 2002 and assumed command 1 July 2003.