FOS Luncheon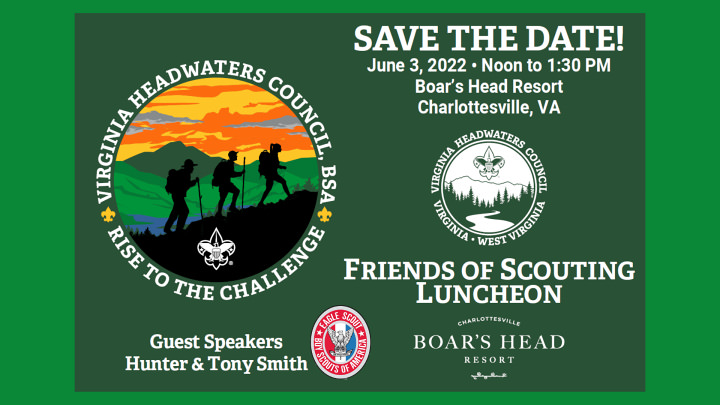 FOS Luncheon 2022 - June 3rd, 2022
The Boar's Head Resort
Come join us as we celebrate local Scouting and hear this year's speakers, Tony Smith and Hunter Smithl. For information on table sponsorships please contact Sue Hart at susan.hart@scouting.org or by calling 540-943-6675.
---
Hunter Smith is the President and Founder of Champion Brewing Company and Brasserie Saison, As well as the Co-Founder of Unity C-ville, a local Charlottesville nonprofit committed to social justice and racial equity. When not working for one of these groups, Hunter is with his family: a wife of 9 years, Danielle, son Lincoln, 4 and daughter Ava, 6.
Smith Attended Northeartern University for Music Business from 2004-2006 and worked for several years as a performing musician in the northeast before returning hom to Virginia. Hunter and his wife moved to Charlottesville in 2009. Smith copleted a BS in Business Marketing from the University of Phoenix in 2010, as well as a Certificate of Brewing Technology from the Siebel Institute in Chicago and started Champion Brewing Company in downtown Charlottesville in 2012.
---
Commercial real estate practitioner Anthony ("Tony") W. Smith is a lecturer in business administration at Darden School of Business. He teaches the Second Year electives "introduction to Real Estate Finance and Development" and "Hot Topics in Real State." Smith is Chairman of Colliers INternational, Virginia, a commercial real estate services firm with mulitple offices in Virginia. He is also senior vice president of Robinson Devleopment Group Inc.
In addition, Smith is actively involved in the Institute of Real Estate Management. He has taught its course "Managing Real Estate as an Invesment" for over 20 years. He has also taught "Real Estate Finance" for Old Dominion University and a customized course in property and asset management for Morgan Stanley REal Estate-Japan.
Tony resides in Afton, Virginia, where he and his wife, Elizabeth, own and operate AFton Mountain Vineyards.