How Cub Scouting Works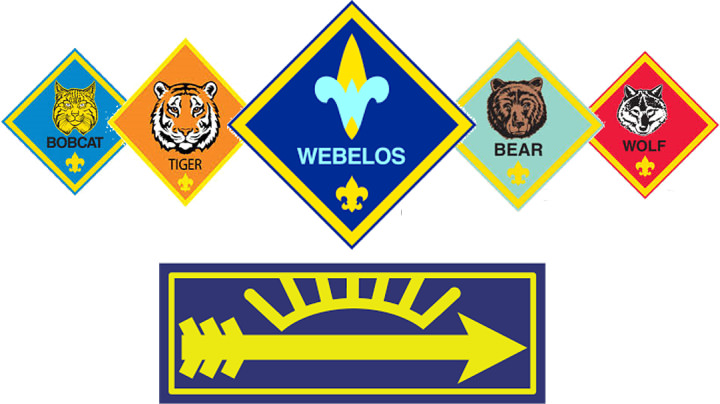 When you see someone in a uniform, you know that person belongs to a specific group. A police officer wears a uniform, and so does a doctor or a firefighter. As a Cub Scout, you will wear a uniform too. If you are in first, second, or third grade, you will wear a blue shirt, blue pants, and a neckerchief in the correct color for your rank—orange for Tigers, yellow for Wolves, and blue for Bears. Webelos Scouts have some different options. Some Webelos Scouts will wear the blue shirt, and some will wear the tan shirt, the same one the Boy Scouts wear. All Webelos Scouts will wear the Webelos neckerchief, which is yellow, blue, and red plaid. The blue and yellow is to remind them they are still in a pack, and the red is to remind them they will be moving to Boy Scouts soon.
There are other parts of the uniform: pants, belt, socks, and a hat. If you wear the blue shirt, you wear the blue pants and the hat for your den. If you wear the tan shirt, you wear olive pants but still wear the hat for your den (Webelos hat).
The Advancement Trail
On the advancement trail, a Cub Scout progresses from rank to rank, learning new skills as he goes. Each of the ranks and awards in Cub Scouting...
Cub Scouting Adventures
Cub Scouts complete adventures as they work toward achieving each rank. The adventures are different for each rank, allowing Cub Scouts to learn new age-appropriate skills and explore new topics each year.
Other Awards You Can Earn
Besides the advancement awards and the adventure loops and pins, Cub Scouts may earn other individual awards. Set your sights on...
Awards for Your Den and Pack
Just as Cub Scouts can earn individual awards for themselves, they can also work together to earn awards for their whole den or their pack.